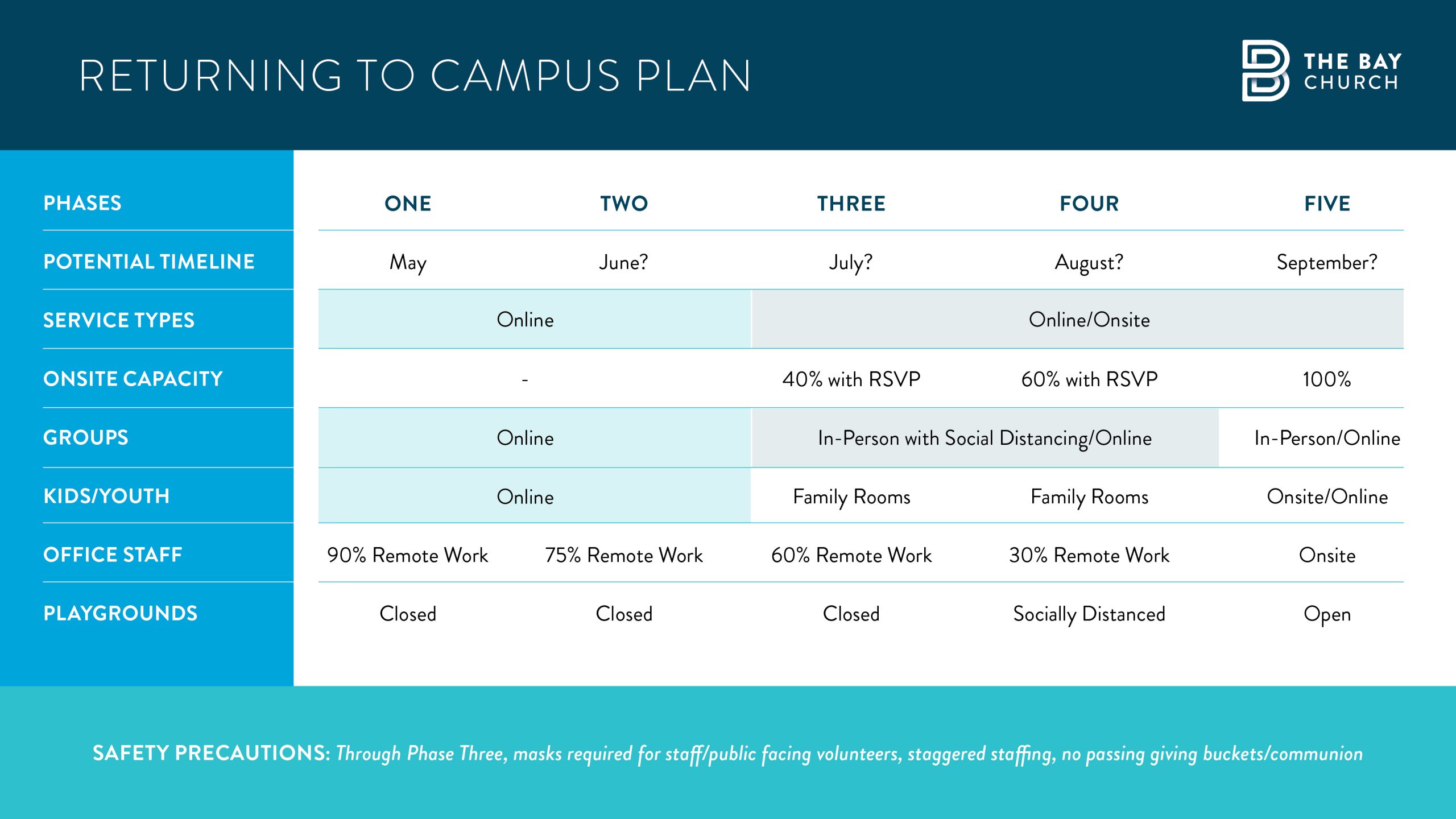 **For Mobile Users**
Returning to Campus Plan
May 27, 2020
Hey Bay Church,
As you know, the circumstances surrounding the Coronavirus (COVID-19) continues to
be ever-changing. As we daily receive new information regarding the virus, we want to encourage you,"For God has not given us a spirit of fear, but of power and of love and of a sound mind"
(2 Timothy 1:7).
As a church, we will maintain our mission of loving God and loving people. We will take a balanced and compassionate approach as we address the concerns of our church family and our greater community. We encourage everyone to demonstrate the love of Christ in serving others. Additionally, we are taking every necessary precaution, as outlined by The Center for Disease Control (CDC), Contra Costa County Health Services, and our Governor.
Recently, Governor Newsom declared a "Shelter" order for Californians for the next several weeks. We encourage you to respond to this with calm confidence in the Lord. We will not be canceling our church services, but rather providing all of our services live online. Please join us through our website, thebay.church, or our App "The Bay Church." You can watch our services live here, at their regular times: Saturday – 5:30 PM, Sunday – 9 AM, 10:30 AM, & 12 PM. Previous weekend teachings are also available here.
In addition to our weekend services, we will be posting kids weekend experience live from The Zone, so kids and parents can participate together. Watch here.
Thank you for your continued faithful generosity in giving through The Bay Church.
There are 4 ways you can give:
1. We encourage you to utilize online digital giving. To give online click here.
Consider taking advantage of our recurring giving option, so your generosity will automatically be given faithfully.
2. Text the amount you would like to give to (925)448-9445.
3. You can mail your check to:
The Bay Church
4725 Evora Road
Concord, CA 94520
4. You can drop your generosity off in-person at the Concord Campus Monday–Friday from
9:00 AM to 5:00 PM.
If you would like assistance, our finance team is here to help. You can contact The Bay Church Finance team at finance@thebay.church or at (925)643-1209.
As a reminder, The Center for Disease Control (CDC) advises:
• avoid close contact with people who are sick.
• stay home when you are sick (cold & flu-like symptoms).
• cover your cough, sneeze with a tissue or your sleeve, and not in your hands.
• wash your hands often/regularly with soap and water for at least 20 seconds.
Throughout history, in moments of crisis, it was often the church of Jesus that showed up to love and serve those in need. We will continue to partner with our community organizations to serve those in need. Join us as we continue to love people and trust Him while we pray for our community, our government leadership, our nation, and our world.
We'll see you online this weekend! Until then, may the Lord bless you and keep you, and may He give you peace.
Warmly,
John Gregg
Lead Pastor
Jason Morgan & Jason Bishop
Executive Pastors